Introducing CrunchPrep, the rigorously tested, step-by-step process for rapidly improving your GRE score by 5 or 6 points in just 60 days. Guaranteed.
CrunchPrep gives you the flexibility to study only what you really need, the confidence to face any question on the GRE and the freedom to control your own study hours.
Including the proven, step-by-step formula that takes you from "below 300s" to respectable 310s. And the tested learning systems to identify your weaknesses and turn them into your strengths.
Finally, the "all-in-one" course that just works:
Even if...you are a busy student or a working professional
Even if...you took the test already and want to score higher
Even if...you're overwhelmed with no idea where to start
And yes...especially if you want to increase your GRE score by 5 — or 6 — or even 10 points with the help of expert trainers.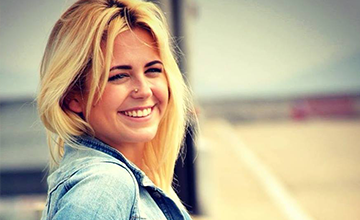 "I have learned a lot from CrunchPrep and owe my success to these guys. I am a repeater and I went from 296 to 311 in 2 months. I can say for sure that I would have never even dreamt of a 310+ on my GRE. But now I am confidently applying to top 20 universities."
— Paula., CrunchPrep Student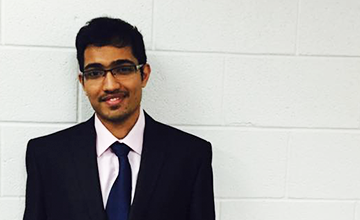 "CrunchPrep is better than other courses out there, in terms of the quality of material, and the commitment of its mentors. Anyone who knows nothing about the GRE could reach their dream score using CrunchPrep. I know it because I've been through it."
— Dinakar., CrunchPrep Student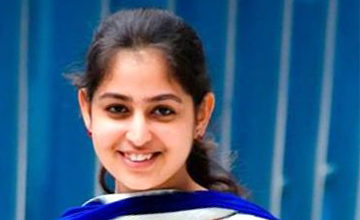 "Verbal has always been a problem for me. Now I am no longer stuck between two answer choices. The verbal module helped me identify possible traps and pitfalls and as a result my score shot up 10 points in verbal alone!"
— Mansa., CrunchPrep Student
World's Most Comprehensive GRE Course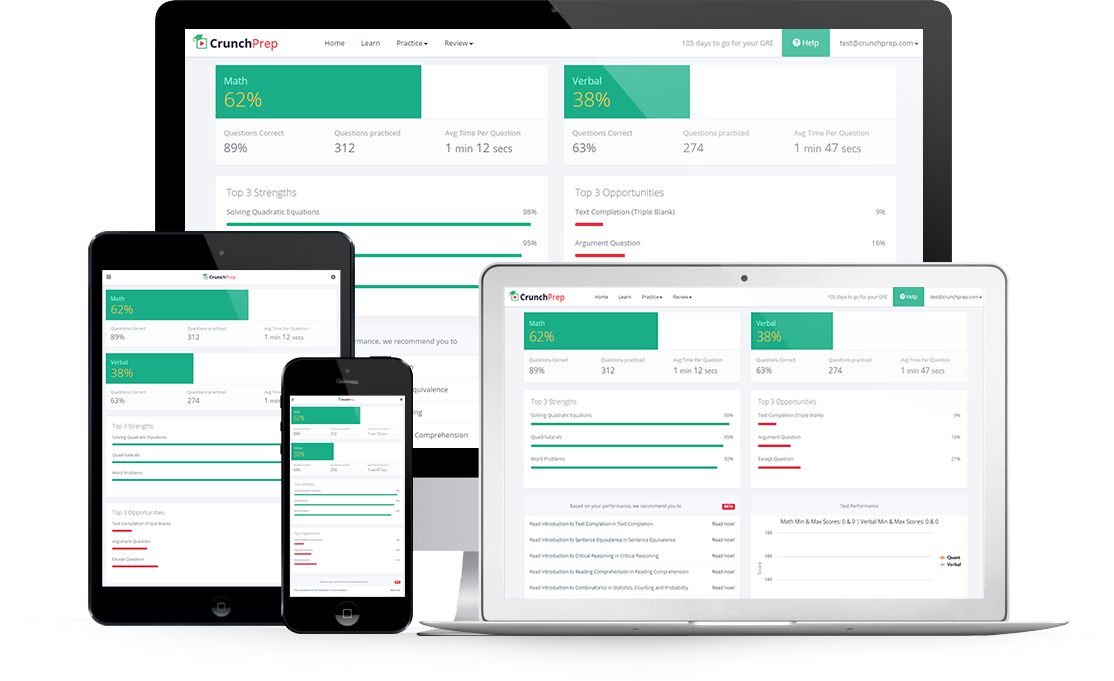 CrunchPrep is a rigorously tested, step-by-step process for rapidly improving your score by 5 or 6 points in just 60 days. Guaranteed.
You'll get over 250 lessons written by experts, that covers EVERY single topic in great detail so you can understand the GRE in and out.
You'll learn the exact strategies, frameworks, tactics, and examples of how to confidently solve any kind of question on the GRE.
And you won't just improve by 1 or 2 points. Using the advanced concepts and techniques that you will learn in the course, you'll be able to score as high as you want to.
How is CrunchPrep different?
The world's only course optimized for non-natives and the only course that is 10x more effective than books.
What makes the CrunchPrep GRE course stand out from all other GRE prep courses?
Our teaching philosophy of practical learning is certainly one of them. Our students tell us they love how it enables them to stay engaged throughout the course and how we make it so easy to take what you learn in the course and apply it directly to GRE problems that are just like what you will see on the real exam.
And the CrunchPrep verbal module is unlike any other. We have created from scratch, a robust course, filled with easy-to-understand concepts, and actionable strategies and techniques.
We created the world's first RC course that teaches you HOW to read a passage, details the seven kinds of RC question types, the eight types of traps that you should avoid and outlines a systematic process to arrive at the main point.
Also no other course includes an ENTIRE module on Vocubulary Building which includes more than 1500 flashcards with contextual usage examples to help you remember obscure words easily.
We make every minute matter. Because every GRE point counts.
| Course Details | CrunchPrep | Magoosh | Other GRE Courses |
| --- | --- | --- | --- |
| Lessons | 250+ | 200+ | Varies |
| Practice Questions | 1600+ | 1000+ | Varies |
| Practice Sessions | Unlimited | Unlimited | No |
| Full-length Practice Test | 6 | 3 | Varies |
| Personal Trainer | Yes | No | No |
| AWA Evaluation | Unlimited | No | No |
| Email Assistance | Unlimited | Yes | No |
| Phone Assistance | Unlimited | No | No |
| No hassle money-back guarantee? | Yes | Yes | No |
| Repeat your course for free? | Yes | No | Varies |
| Cost | $ 99 | $ 99 | $ 200+ |
Over 60% of our students have scored 315+

CrunchPrep has the perfect recipe for GRE prep. Regular interactions with my mentor helped me boost my confidence and score 326 on the test - Saurabh (326/170Q).

Lots of free material is available online, but there are very few genuine mentors. And CrunchPrep's mentor support is what helped me at every step - Reena (320/162V).

CrunchPrep is an amazing course with awesome mentors. Scoring 170 in quant would not have been this easy without the practice tests and analytics - Rahul (317/170Q).
Inside the CrunchPrep GRE Course
CrunchPrep includes a beautifully organized set of over 250 lessons, over 1600 practice questions, upto six full-length practice tests and case studies, worksheets, and lots of surprises.
Learn From The Most Comprehensive Material Ever
Learn powerful strategies for every section and question type that the GRE tests you on and prepare like a champion.

There is so much material to learn from that at the end of the course, I felt like a GRE expert myself. And that confidence in myself made a lot of difference on test day - Harsha (325).
Study Vocab Flashcards With Mnemonics
Learn over 1000 high frequency GRE words, and 500 most important math formulae using our super-efficient and powerful flashcards.

I would be very disappointed had CrunchPrep not existed. Your feedback was necessary to boost my confidence. Quant questions were really good and not to forget the awesome collection of flashcards. You people are doing a great job - Kaushal (323)
Customize Your Practice As You Want
Take unlimited practice sessions. Choose from specific lessons and question types, pick difficulty levels or switch to adaptive mode.

CrunchPrep was exactly what I wanted. The flexibility of choosing the kind of questions I got in my quizzes and the simple explanations give CrunchPrep its edge - Aditya (317)
Take The World's Most Realistic GRE Practice Tests
Our practice tests are powered by artificial intelligence, guaranteeing you the most realistic GRE questions and the most accurate scores.

CrunchPrep was a stupendous experience. The questions were very close to actual GRE. You'll experience the emulation of the real GRE, and can also gauge your score from it - Astha (315)
Know Exactly Where You're Going Wrong
Set targets, keep performance on track and continue to improve your score. Spot performance trends at a glance and identify weaknesses.

The three things about CrunchPrep that really stand out from the other test prep courses out there are the concept of a personal mentor, and the analytics and course material. I really liked the course. I'll give it a 10/10 - Shivam (321)
Unlimited help every step of the way
You're never alone with CrunchPrep. I've done everything I can to structure this course in a way that gives you the absolute clearest, shortest, and most direct path to phenomenal results.
But the fact is that you and your skills are both unique, and that means that you are likely to have unique questions. It's just natural. (Sometimes, I'd read everything I could imagine, and it still won't help me understand the concepts.)
The one thing that helped me was being able to turn to experienced people and ask how they did it. That access is priceless and can literally save you lots of time and energy.
That's why every single student in the CrunchPrep GRE Course will receive *unlimited* personal support at every step of their prep.
And yes, I really mean unlimited.
Many other programs promise great support, tell you they are just an email away... and then take weeks to get back to you, bringing any progress and motivation you had to a grinding halt.
(Or, in many cases, "support" just means there's a forum or Facebook group!)
Not here. Not us.
You can tap the experience, best strategies and mental frameworks of experts who have scored in the 99th percentiles themselves and helped hundreds of students score too.
We are 100% committed to your success.
And we don't just say you'll be getting unlimited support, we live it.
The entire CrunchPrep team is built around being able to give personalized, hands-on support to every single student we have.
And when I mean support... I mean SUPPORT.
You will be in good hands with them by your side.
Every week, they each dedicate dozens of hours to nothing but helping students like you achieve success in the program.
All questions are answered within 24 hours, and most are answered even faster, so you never have to worry about stalling because you're stuck and there's no help in sight.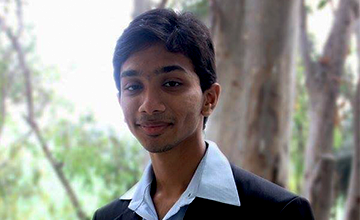 "I have learned so much from CrunchPrep already. I have been struggling with Quant for a few weeks now, and CrunchPrep looks like a master class course for the GRE. I learnt how to do a number of different things that I didn't know how to do before. I owe my 165 in Quant to CrunchPrep."
— Rahul, CrunchPrep student
Join the CrunchPrep GRE Course Today
An UNBEATABLE Guarantee:
Try "CrunchPrep" for a full
7-Days, 100% Risk-Free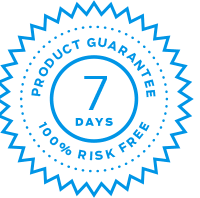 Try the entire CrunchPrep course. If you don't LOVE it, I insist that you get 100% of your money back.
Let me tell you exactly why I offer this unbeatable guarantee.
I know this material works. I only care about developing super high-quality material full of proven strategies and techniques, and more that you can't find anywhere else.
That's why my blog is being read by over 200,000 students per month.
And that's why I guarantee CrunchPrep GRE course.
It's simple: Take the course and see for yourself. If it doesn't work, I want you to email me, prove you did the work, and I'll refund you 100%.
This guarantee is extended for a full 7 days, which completely covers the duration of any module in the course. Try the ENTIRE course. If you don't love it, just email me at ANY TIME during the course and show me you're doing the exercises and not getting results. I'll refund 100% of your price.
By the way, I ask you to show me you've done the exercises because I know how powerful they can be when applied. I have no intention of keeping your money if you're dissatisfied, but I insist that you commit to taking action if you want the results from this course. I've spent thousands of dollars developing the material in here, and I'd like to share it with you if you're ready to use this material to improve your GRE score — and get into the University you want.
YES! Count me in!
CrunchPrep
Express
$

119

$
59
Limited spaces available
Over 250 Lessons
Over 1600 Practice Questions
Over 1500 Flashcards
Up to 2 Full-length Practice Test
1 Months Access
Unlimited Personal Support

CrunchPrep
Premium
$

357

$
79
Limited spaces available
Over 250 Lessons
Over 1600 Practice Questions
Over 1500 Flashcards
Up to 4 Full-length Practice Test
3 Months Access
Unlimited Personal Support

CrunchPrep
Ultimate
$

714

$
99
Limited spaces available
Over 250 Lessons
Over 1600 Practice Questions
Over 1500 Flashcards
Up to 6 Full-length Practice Test
6 Months Access
Unlimited Personal Support

If you have any questions or concerns about the course, call or email us.
We're happy to help.
Email Support