There are a few questions that have lately been on the minds of GRE aspirants. 'Is ETS planning to introduce negative marking system in the GRE? Will the GRE pattern change from next March?'
After all the changes that the GRE has been through over the past couple of years, it is understandable that thousands of students are worried about this news. Many students have despairingly contacted us to find out the truth behind these rumors. To find out the validity of these claims, we decided to get an official confirmation from ETS.
After persistent efforts for over a week, we received a reply from ETS. Here it is: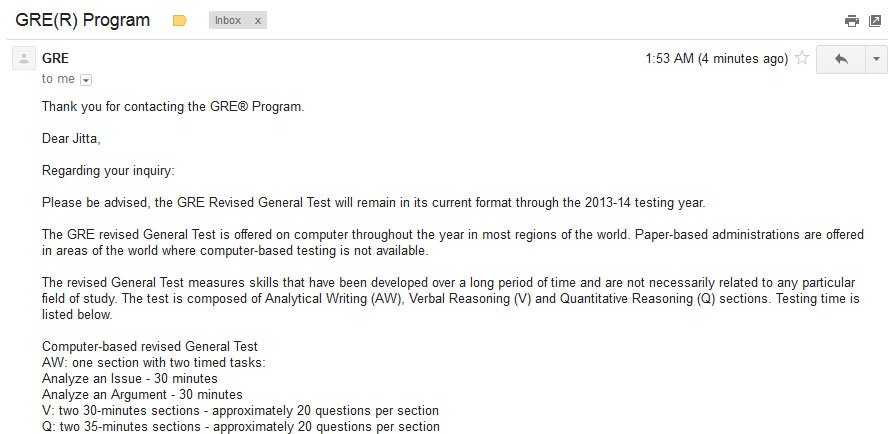 According to this email reply, ETS has confirmed that these are nothing but rumors, and the GRE test pattern is going to be as is for the next academic year as well. Let us again assure you that none of these changes are going to happen. Well, at least not in the near future. So, there's no negative marking on the GRE, no change in the number of questions per section, and no change in pretty much anything about the GRE.
It is not very uncommon to hear such rumors, especially on the internet. So, we'd like to advise you to check the official website and blog of ETS for any updates. You can also subscribe to our newsletter for updates and tips on the GRE. If you'd like any clarification, please don't hesitate to write in to us or to ETS.
Also, share this important piece of information with your friends and lessen their worries! 🙂