Retaking the GRE – for some it is more like a luxury that they want to pursue with the hopes of improving their chances at the top schools or get some additional funding, and for others it is a necessity because they desperately are looking to improve their scores.
If you belong to one of these two groups, and especially the latter, then it is possible that you're full of questions. It's not uncommon to spend a few sleepless nights thinking:
Should I consider retaking the GRE? 😏
Is it worth the extra time, money and effort? ⏲️💰😪
Will I be able to improve my score significantly? 🤔
Should I study on my own or join an online course? 💻
And what if I score even lower than before? 😱
Whoa, now that's a question to keep you awake last night, isn't it? 👀
You're not alone in this
Maybe you didn't get the score you wanted. Maybe you're sure you didn't study at all the last time and want to give it another go. Maybe your score does not meet your target university's standards.
But whichever may be the reason, it is perfectly alright to think of retaking the GRE. Because while you might think you're the only one retaking the GRE in the entries world, that is not true.
Because according to this latest ETS survey, more than one in every four people around the world takes the GRE more than once. 😲
Fascinating, isn't it? So you're not alone. While you might think you're the only one who couldn't achieve their target GRE score, rest assured that there are at least 100,000 more like you around the world.
At least 25% of test takers around the world take the GRE more than once! 😲

ETS Survey
And more importantly, the vast majority of those who retake the GRE test actually see an improvement in their scores!
So, if you're not happy with your current score, and if you're wondering whether retaking the GRE test is the right thing to do, then this guide should help you decide.
Should you go for a retake?
Of course, whether or not to take the test once again is a subjective question, and the answer might differ from one person to the other. However, this brief guide is an attempt to ask you the right questions so you can decide it for yourself.
The GRE comes with a motive of testing your aptitude, analytical thinking, and verbal reasoning skills. Despite what many high scores might want you to believe, retaking the GRE is no piece of cake.
Except for a small minority of test takers, most students end up getting scores that are below their targets. So, it is important to remember that even if you are putting your best efforts, you might sometimes not be able to achieve it at one go.
But if your scores are not up to the mark, then do not worry; There can be a lot of reasons why you did not perform well on the GRE in the past. But you always have an open window to improve your test scores, all you need is to buckle up for another month or two, and just retake the GRE test!
Having said that, retaking the GRE is retaking not an easy task. You'd have to do everything that you've already done, once again – the study plans, the late night practice sessions, the 4-hour full-length tests, the vocabulary flashcards, the in-depth reviews, the painful hard-hitting realities, and all of the other things that you endured just a while ago.
Ugh. Seems like a nightmare, doesn't it? No wonder why many test takers make this decision rather grudgingly. We all know that GRE test can be difficult to score for a lot of people for various reasons. And that is why ETS has a provision that allows retaking the GRE test up to 5 times a year, so that you have multiple chances to improve your scores.
Retaking the test does not affect your applications to your dream university as you can decide which score you would like to submit in your application. While you are still in the mode of studying, you can retake the GRE after 21 days and work on your weaknesses immediately; and in a year you can take the test 5 times.
Consider These Before Retaking the GRE
Taking the GRE test was quite a piece of work. But when you retake the GRE, along with the hard work, you might need a different approach to scoring well. To make things easier for you to understand, here are a few things to consider before you retake the GRE. This can be a small checklist for you while you plan your way through.
#1: Purpose of retaking the GRE
Retaking the GRE test means going through the same or even more hard work all over again. It demands you to invest a whole lot of time and patience in it. Hence, if you want to retake the test, you have to be very clear of your purpose to do so.
You must first understand if you actually need a retake. You have a target score to achieve according to the universities you are applying for. Now what's a good GRE score may be relative to your goals, but it is important that you aim really high.
For example, you want to pursue a Master's degree in the top 50 universities across the US that demand a good GRE score, then your target should be around 325.
But in some other cases where institutes are not that concerned about the GRE score, a 300-310 would be a good score.
If you haven't achieved a "good score" at your first attempt, you should consider retaking the test. But, it is completely harmless if you are a little ambitious and you want to score more. To add to the benefits of a better score, you can even get a scholarship for further education.
If the purpose is clear enough in your mind, it becomes a lot easier for you to further excel in the test. You effectively understand what areas you need to work on and how to prepare accordingly.
Hence, the first step is understanding the need for retaking the GRE.
#2: Pros and Cons of retaking the GRE
If you are still in a fix in deciding whether or not to give the test again, here is another tip. To make it easier to understand if you need to retake the GRE, you can make a list of pros and cons
Here is a general list of pros and cons of retaking the test. You can add your own pros and cons to the list based on your experience or situation.
Pros:
You get another chance to improvise if you couldn't do the test due to reasonable circumstances.

With the opportunity, you can score better.

If you have taken the test multiple times, with ScoreSelect, you can decide which score to send out in your applications.

Retaking GRE does not have a major effect on your application.

Cons:
The test costs a lot. If you have a financial hardship, you need to be very certain if it is worth.

You might have a time limitation. If there is a crunch in a deadline of applications, you might want to reconsider taking the test.

It is of no use if you are not prepared enough for the test. Hence, you have to make sure that you study well before giving the test again.

Giving a retest once is harmless, but giving it multiple times might affect your application.
#3: Financial Aspects
In the above points, we mentioned a few limitations of retaking GRE. But as every problem has a solution, there is always a way to overcome the cons.
It is certain by now that retaking GRE needs to be well planned with a clear goal.
When it comes to the financial demands, you need to pay the fees of the same amount as you paid while giving it for the first time. Currently, the GRE sets you back by $205. Having said that, that amounts to nothing, compared to what you will be incurring during your Master's degree.
Moreover, think of this as a teeny tiny investment you're making in yourself to get into a much better college, and eventually get a much higher paying job than you would have otherwise. It's no wonder most people who retake the GRE feel like it is the best decision they have ever made. So you can never go wrong. 🙂
#4: Time Management
Understanding the timelines for retaking the GRE is very crucial. We are now aware that we can repeat the test after 21 days. However, you need to check whether or not it is well before your applications deadline. If it is, you can go for a retest without any worries. But if you get the retest slot a few days before the applications deadline, go for it only if it is really needed.
When it comes to time management, we sometimes tend to neglect how much time we need for the preparations.
Plan a sufficient amount of time to prepare before the retest.
This can let you effectively improve on your scores. To decide how much time you will need you can checklist a few factors below;
How far are you from your target score?
How well did you score in your practice test?
Which areas do you need to improve?
How much time do you need to improve based on your studying capacity?
By answering these questions you might get a tentative idea on how many days you will need to prepare. Accordingly, you can apply and book your slot for the retest. If you can't decide how much time you need to prepare, you can plan out your preparation by referring to "Plan to reach your goal" below.
#5: Expectations when retaking the GRE
Now that you have registered and got an appointment, it's time for you to start preparing. Before you start with your studies, it is always good to come up with a plan and keep small targets that can help you prepare for the ultimate test. In the case of the retest, the first step is to understand which places require improvement.
You can start by checking how far are you from your target score. You then subject your score to categories of analytical thinking, maths, and vocabulary. You will now understand which category requires more attention.
Another easy way to analyze your previous test is by simply using the GRE Diagnostic Service. The diagnostic tells you:
which questions you answered are right or wrong.

Each question in GRE is designated a difficulty level from 1 to 5. The diagnose tells you how many difficult questions you have answered correctly.

how much time you have spent in answering a certain question.

With this detailed analysis, it is super easy for you to figure out where you need to improve. However, this service expires after 6 months of the test. In case you are too late, you can get help from the comprehensive analysis at CrunchPrep.
#6: Plan to reach your goal
By now it will be clear to you what areas you need to focus and improve on.
With your targets clear, you can make your study schedule easily.
Since you have given the test before, you can first figure out what topics you are well-versed with. You can keep these topics to study while you are revising or giving practice tests.
First, start by studying the topics you are not prepared with at all.
When you are creating a schedule, make sure that it is comfortable for you and you are giving sufficient time for each topic.
While you are studying, pay close attention to what topics you are able to understand and what topics are difficult for you. If your ideal ways of studying are not working, try out some new ways to understand those topics.
If you feel that you have studied well you can go ahead with practice tests. With these tests, you will understand your speed, and how prepared are you. In this way, you can go on improving, hence, perform well.
You should also consider having a different approach towards studying. Here is a very useful 80-20 method you can try out to score better.
#7: Relax and Be Confident
Retaking the GRE test can be really hectic and put a lot of pressure on you. Stressing too much might affect your preparation and performance in the test. But don't let panicking take your toll.
Initially, it is difficult to sit in one place and study. While you are preparing, there will be times where you fail to commit to your schedule. But it's completely fine, as long as you make up for it the next day. If you fail to understand a certain topic, you can always move to the next one and get back to it later.
Your persistence and dedication would work like magic for scoring better.
For a smooth preparation, avoid last moment hassles as it might result in a bad outcome.
If you are prepared for the test, you don't need to worry about anything.
All you need to do is relax and be confident while giving the test. You are sure to achieve your target score.
Next step: Applying for a Retake
If you have thought about it long enough and have considered all the factors mentioned above, you can go ahead with applying for a retest.
This process is simple and very similar to applying for GRE for the first time. The only difference is you can use the same account on ETS rather than making a new one. We've explained this in greater detail in our post about booking a GRE appointment.
But before you book your next GRE retake appointment, it would be good to understand if you're there, getting the scores you're targeting. And the best way to do that is to take a practice test.
We'd usually recommend that you take the free ETS PowerPrep tests, but considering that you might have already exhausted those free tests, we recommend you to take a free GRE practice test that gives you equally accurate results. Luckily, we have one free test for you at CrunchPrep, so go ahead and take it before you take the big plunge.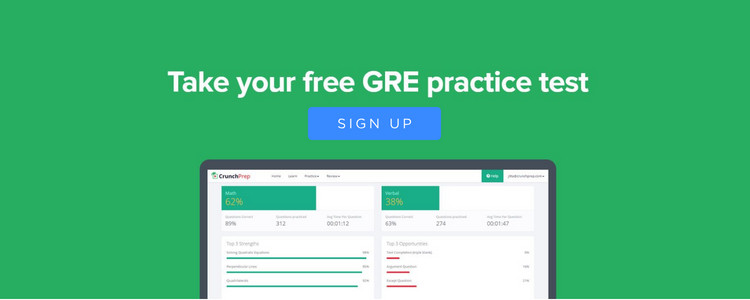 Now It's Your Turn
There can be a lot of reasons for you to retake the GRE test. It's true that retaking the GRE doesn't have any negative impact on your application. However, it needs to be well thought of and well planned if you intend to retest. The factors mentioned above are like a guideline and the basic factors to think of before you go ahead and apply for a retest. Of these, the most essential role is played in understanding your goals for the retest. But it is equally important for you to be patient and calm for the same.
So, those are some things you should keep in mind before you plan on retaking the GRE test. And as always, if you have any other interesting considerations in mind, do let us know in the comments below!
Good luck with your GRE test! May the scores be with you! 😉